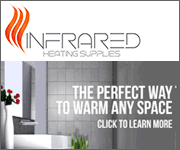 Highly energy efficient electric heater. You probably first heard of infrared light in science class when you learned about wavelengths. Perhaps you've also heard of infrared technology or infrared radiation from magazines or commercials on TV.
Infrared heating panels work the way sunlight does, using infrared light. Far more efficient than traditional heating methods for multiple reasons. InfraRed heating produces heat from the light that our eyes cannot see. This type of heater warms us up because our clothes and skin soak up this light. It's similar to the difference between being inside or being out in the sunlight. The sun warms you up because it produces light that is absorbed by your skin and clothes. Sitting indoors or in the shade, however, means the light can't touch you.
Visit us to learn more.